What makes Sonrise Carpet Care different than most other carpet cleaners?
1. The Sonrise 7 - Our "No Compromise Carpet Cleaning" Process
It all boils down to the details! What we call "No Compromise Carpet Cleaning". We exceed the standards created by the Institute of Inspection, Cleaning and Restoration (IICRC).
Most companies do not follow these standards in order to cut costs and shorten the time each job takes. But not Sonrise Carpet Care. Your home is worth us taking the time and making the effort to do the job right.
Dry Agitation

Using a soft bristle carpet brush, we brush all of the carpet to knock loose soil, hair and other debris.

Thoroughly Vacuum

We thoroughly vacuum the carpet using an industrial power, 4 stage HEPA vacuum to remove as much dry soil as possible.
These 1st 2 steps are crucial, as up to 70% of soils in any given carpet are typically dry, insoluble particles. (This is a step MANY other carpet cleaners leave out, they go straight into our 3rd step)
Pretreat Entire Carpet & Spots

We pretreat individual spots with the appropriate cleaning agent, and then thoroughly and evenly coat the entire carpet with a heated, soap free, Alkaline solution. This breaks down any remaining grime and oils.

Soil Releasing Scrub

We use a machine that most cleaners charge extra for called a CRB or Counter Rotating Brush machine, which gently scrubs the carpet in 2 directions at once, removing any remaining pet hair not caught by the 1st 2 steps and scrubs away at all of the previously treated spots.

Rinse With Hot Water Extraction (Steam Cleaning)

The rinse & extraction step is what most people think of as "steam cleaning". However, what makes us different is that we clean at a higher heat and higher water flow. Our rinse also contains a mild Acid rinse to counter the Alkaline and bring the carpet back to its Neutral PH.

Groom the Carpet

We groom the carpet with a soft bristle brush to both eliminate matting and speed the drying process. This gives the carpet its soft feel and uniform appearance.

Multi Fan Drying

Lastly, we use specially designed Airpath Dryers to create a large volume of air flow over the carpet to shorten the drying process. Though there are a lot of factors involved that can make this number vary, we aim to have the carpet dry in as little as 4-6 hours after we have left.
2. Sonrise Carpet Care is an IICRC Certified Firm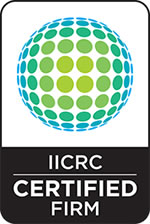 The IICRC is a certification and Standards Developing Organization (SDO) for the inspection, cleaning and restoration industries.
IICRC certified technician
On each carpet cleaning crew we send out, there is a minimum of one person who is an IICRC certified technician for the type of cleaning we are performing.  They have not only taken the IICRC certification classes, but they have passed written tests to gain the certification.
Don't Void Your Warranty
Today, the three largest manufacturers of carpet, Shaw, Mohawk, and Beaulieu, require the buyer of new residential carpet to have it cleaned every 12-24 months by an IICRC certified technician or you void the warranty.
Mohawk has taken it a step further and requires that it be cleaned by an IICRC certified firm using the hot water extraction cleaning method.  There are a lot of people who are voiding the warranties on their carpet and don't know it.  Don't lose your warranty!
Satisfaction Guranteed
We strive to make your experience with Sonrise Carpet Care the very best, leaving you with great looking carpets. But if there is ever any problem with our service as part of being an IICRC Certified Firm we have a process that will help resolve any issues quickly so that you are completely satisfied.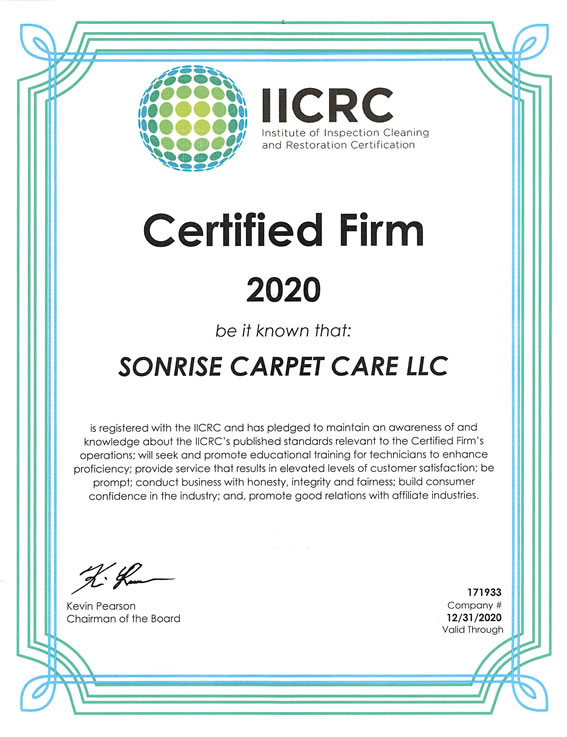 3. Carpet and Rug Institute Approved Service Provider

Sonrise Carpet Care is an Approved Service Provider of The Carpet and Rug Institute. We use cleaning solutions and equipment that have been thoroughly tested and approved by The Carpet and Rug Institute.
4. Our Extensive Carpet Cleaning Training
Beyond IICRC certification, we have taken classes in the science of carpet cleaning taught by some of the best in the carpet cleaning industry.  Jeff Bishop was one of the founders of the IICRC and works extensively with manufacturers to refine the science of cleaning carpet, upholstery, oriental rugs, and tile and grout.
He has lead many studies for Shaw Industries that help those of us in the cleaning world understand the why and how of cleaning, including techniques, chemicals, spotting, productivity, etc.  Sonrise Carpet Care owner Jerry Robbins had the privilege of taking two classes from Jeff.
Joey Pickett was the fifth Master Cleaner in the IICRC, the highest certification available, and is well known for hosting a radio show in Lexington, Kentucky where he is known as Doctor Stain.  He travels the country extensively teaching cleaners in the fields of carpet cleaning, upholstery cleaning, stain removal, odor control, and fire and water damage restoration.  He is also a Certified Master Carpet Inspector who is called out by manufacturers to inspect defects in carpet, installation problems, cleaning problems, etc.
5. Free Estimates & Upfront Pricing
We run a free estimate for you up front so you will know exactly what the total cost for your cleaning will be. There are no gimmicks, no tricks. Many of our competitors use what are called bait and switch tactics. They offer "too good to be true" low prices in advertisements, but key carpet cleaning processes are left out of that price and are offered as add ons or upsells. The price you really pay is much more than is advertised.
Call for Your Free Estimate Today - 937.550.4049