The Sonrise Carpet Care Difference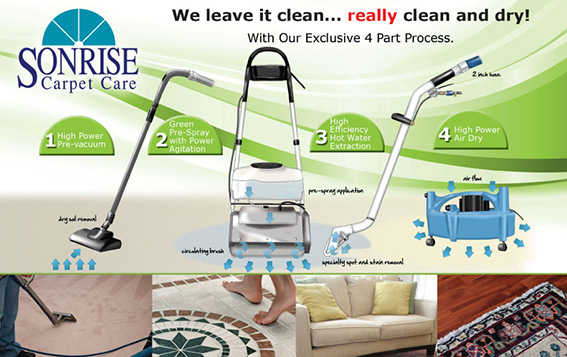 What makes Sonrise Carpet Care different than most other carpet cleaners?
Training
We have taken classes in the science of carpet cleaning taught by some of the best in the carpet cleaning industry.  Jeff Bishop was one of the founders of the IICRC and works extensively with manufacturers to refine the science of cleaning carpet, upholstery, oriental rugs, and tile and grout.  He has lead many studies for Shaw Industries that help those of us in the cleaning world understand the why and how of cleaning, including techniques, chemicals, spotting, productivity, etc.  I have had the privilege of taking two classes from Jeff.
Joey Pickett was the fifth Master Cleaner in the IICRC, the highest certification available, and is well known for hosting a radio show in Lexington, Kentucky where he is known as Doctor Stain.  He travels the country extensively teaching cleaners in the fields of carpet cleaning, upholstery cleaning, stain removal, odor control, and fire and water damage restoration.  He is also a Certified Master Carpet Inspector who is called out by carpet manufacturers to inspect defects in carpet defects, installation problems, cleaning problems, etc. We have taken many classes with Joey.  A little side note to Civil War history buffs:  Joey is the great-great grandson of Confederate General George Pickett who led Pickett's charge in the battle of Gettysburg.
We Are an IICRC Certified Firm
What does that mean you say?  It means that we are not like some cleaners who have one IICRC certified tech in the company but send out crews without having a certified tech on the crew.  On each crew we send out, a minimum of one person who is an IICRC certified technician for the type of cleaning we are performing will be on the team.  They have not only taken IICRC certification classes, they have passed written tests to gain the certification.  In addition, we have a process we follow if a customer has a complaint about the cleaning we performed.
Today, the three largest manufacturers of carpet, Shaw, Mohawk, and Beaulieu, require the buyer of new residential carpet to have it cleaned every 12-24 months by an IICRC certified technician or you void the warranty.  Mohawk has taken it a step further and requires that it be cleaned by an IICRC certified firm using the hot water extraction cleaning method.  There are a lot of people who are voiding the warranties on their carpet and don't know it.  Don't lose your warranty!
Our Process
Our Complete Clean package for residential carpet cleaning has far more steps to it to ensure your carpet looks clean and fresh after we are done, as well as leaving it drier than most other carpet cleaners in the area. Click here to see what those steps are and how they affect your carpet.
Results!
The best thing for you to see is our results!  Click one of these links to see pictures and and read testimonials of the results we have cleaning.